Google tries very hard to educate advertisers on how they can improve their efforts on Google Ads. There is an entire section of the new Google Ads UI that shows various recommendations, some of which are getting pretty good and some of which aren't as helpful. One of those suggestions is the optimization score, which is prominently displayed at the top of the aforementioned Recommendations tab (which can be accessed in the left navigation just below Overview.
It looks like this:
For this particular account, the score is 76.6%, which is a solid C for an account that is set up very well and performs equally well. However, Google must really like it because they're taking it to a more granular level with the introduction of an Ad Strength indicator tool.
Google Ads Ad Strength Indicator
This new feature was announced by Google last week and looks like it will only apply to the new responsive search ads for the moment.
Here is a screenshot provided by Google of what it will look like: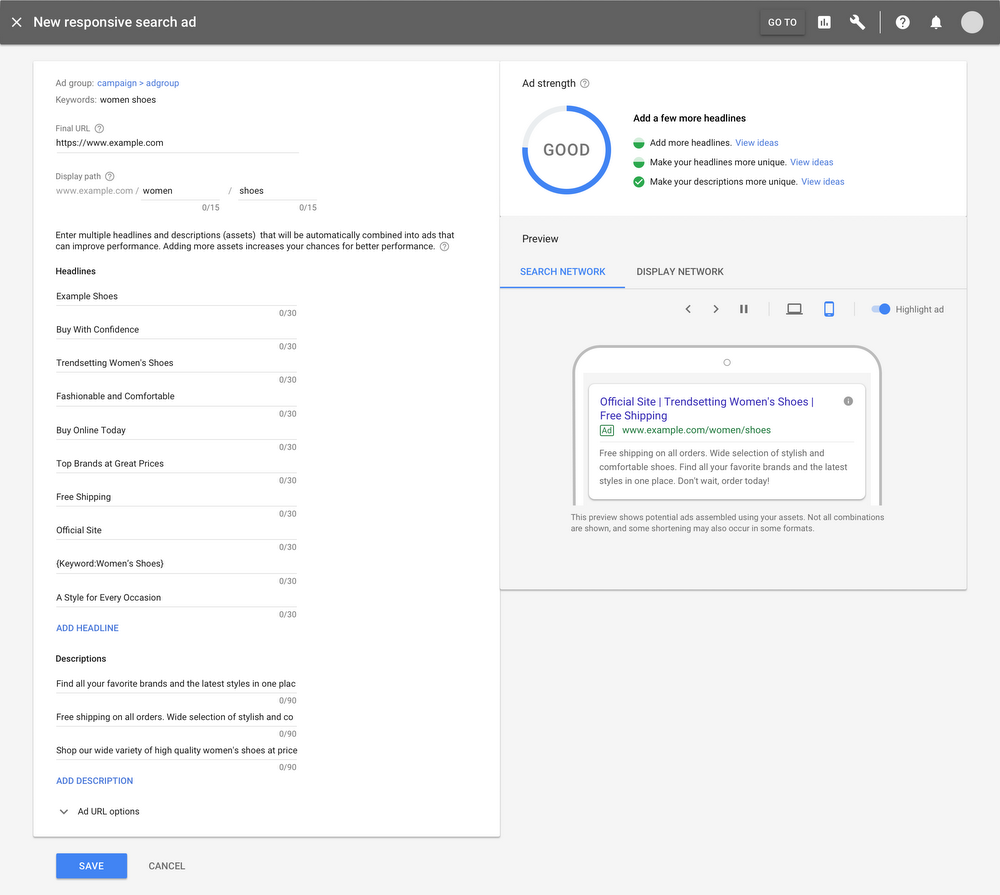 As you can see, the Ad Strength has 3 components:
Headline quantity
Headline uniqueness
Description uniqueness
The minimum for the number of headlines is 5. This screenshot shows 10 but still is asking for more so I'm guessing it's doctored. Having 10 different headlines to rotate when you can only show 3 at a time would make a statistical hardship for the machine learning. Only higher volume ad groups could get the benefit. My gut feeling is that ad headline uniqueness is the same because that's a pretty diverse set they show. They even threw one in that uses Dynamic Keyword Insertion (DKI) for good measure.
As far as descriptions, you're required to put in 2 and this shows 3 variations. With 90 characters you can put a little more in that line than you used to and if Google displays two of those bad boys your ad starts to read like a novel (but it's okay because not many people will read that much text anyway). So don't worry about needing to be a Nobel laureate.
Conclusion
I'll reserve my final judgment until I get to play with this live. As of this writing I haven't found one of my accounts where it's live yet. However, I'm going to be dissecting it to see at what point their indicators go from deficient to adequate to awesome. That should provide me with more insight into what size of advertiser this is targeting. Given the format (3 headlines and 2 description lines) it will already be an uphill climb for low-traffic ad groups. As usual, test and optimize to figure out what should be best practice for your account.
Have you seen this feature in any of your accounts yet? We'd love to hear about it if you have!