Ad extensions allow advertisers to expand their ads with additional information, typically resulting in more people clicking on your ad. Google will be releasing new extensions for YouTube ads that will provide viewers with actionable information that will appear alongside video ads. Let's take a look at current ad extensions available for video ads and which ad extensions will be rolling out in the near future.
Location Extensions
Location extensions and currently available for video ads and help people find your physical business locations. In order to use location extensions, your stores need to be listed in a Google My Business account.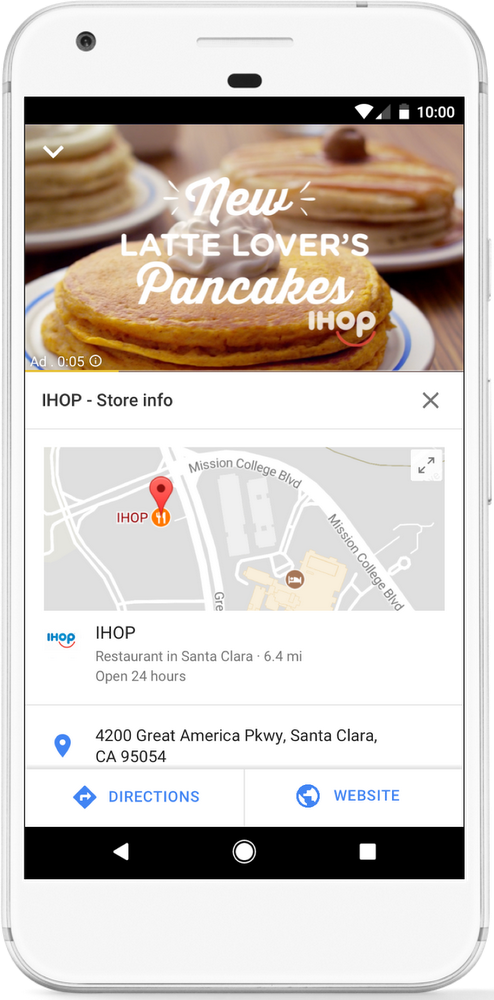 People watching your ad can click on the extension teaser to see your business's address, directions, and hours right in the ad. You can then use store visits to see how effective your video ads are at driving foot traffic to your business.
You can also promote third-party locations that sell your product with Affiliate Location extensions. You can select multiple retailers from the Affiliate location tab, but you can't specify the order in which the locations will appear in the ad. The most relevant locations will be chosen based on the user's device location.
Call-To-Action Extensions
Call-to-action extensions replaced the call-to-action overlay in early 2019. If the primary objective of your ad is to drive clicks and conversions to your website, you can use the TrueView for action ad format. If you are using in-stream video ads you can select the call-to-action check box during TrueView ad creation.
This extension comes with interactive elements that can appear as a click-target alongside your video ad. The call-to-action can be customized to specific use cases and will send clicks through to your final URL. This extension will become available for 6-second bumper ads later this year.
Sitelink Extensions
You are likely already familiar with Sitelink extensions for your search ad campaigns. With Sitelink extensions for video ads, you'll be able to add relevant links to product pages or promotional pages that will be displayed below your video.
TrueView Sitelink extensions are currently in beta testing. Tests have shown that adding Sitelinks resulted in 23% more conversions and 50% more clicks for video ads. They're expected to be available for all TrueView action ads in the coming months.
As new extensions become available for video ads, you'll start to see them under the Extensions tab in your account.
Have you seen performance improvement for your video ads when using extensions? Which of the soon to be released extensions are you most excited about? Let us know in the comments below!